IMPORTANT NOTE
Due to the increasing cases of coronavirus (COVID-19) in Europe and worldwide and in alignment with the new travel restrictions laid out by many countries, the MT-ITS2021 conference will be held online and not, as initially planned, in Heraklion. Streamed events will include keynotes, breakout sessions, and interactive sessions thanks to a dedicated platform that is currently being prepared for the event.
About the Venue
MT-ITS2021 will be held at Aquila Atlantis Hotel, Heraklion, Crete, Greece.
Website: http://www.theatlantishotel.gr/
Address: Aquila Atlantis Conference Centre, Igias 2, Heraklion, 712 02, Crete, Greece
Impressions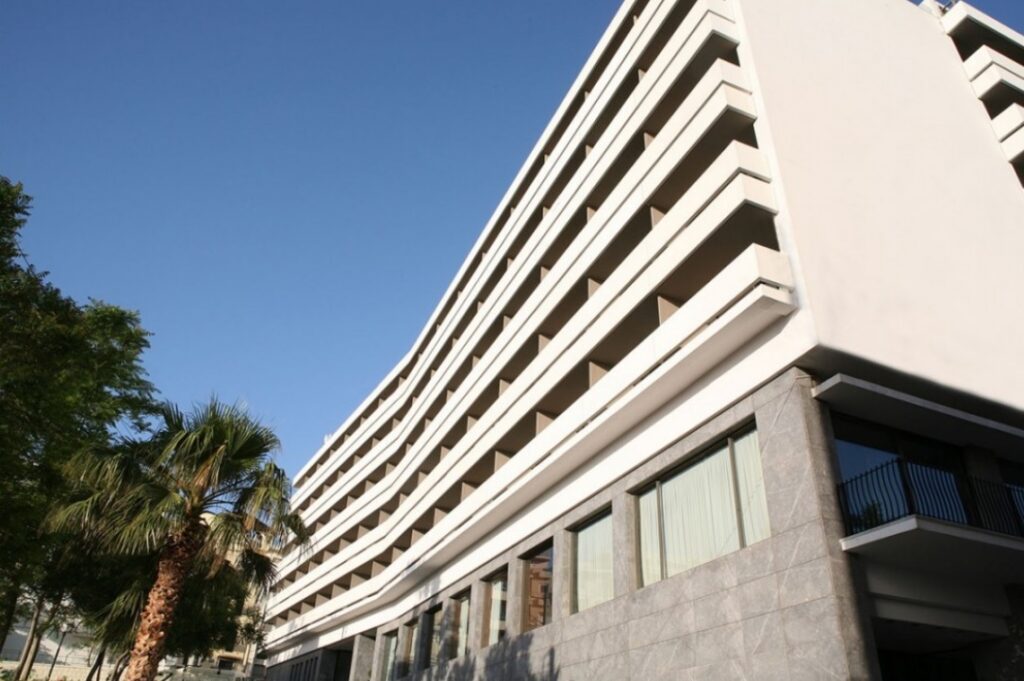 How to get Atlantis Hotel
Aquila Atlantis Hotel is at the heart of Heraklion, very close to the port of the city. You can get from the airport to Atlantis Hotel either by bus or by taxi. The bus takes about 35 minutes and costs approximately €1. A taxi takes 10-20 minutes to get to Heraklion city center. The taxi fare from the airport should be around €15.
Hot to get to Heraklion
There are two ways to arrive at the principal city of Crete: by sea or by air. Direct ferries depart every day from Piraeus, the main port of Athens. Many direct flights leave from Athens International Airport, adding to the ones from abroad during the high tourist season (from April to October).
Ferries. Daily ferries link Piraeus to Heraklion. Most trips are overnight and last at least 9 hours. The port of Heraklion is very accessible, built inside the city limits. For more information, you can visit the following websites: http://www.olp.gr/en/coastal-shipping/posts-ships-gates or http://www.olp.gr/en/coastal-shipping/posts-ships-gates .
Flights. Heraklion International Airport "Nikos Kazantzakis" is the main airport of Crete. It is built within the town of Nea Alikarnassos, 3-4 km away from Heraklion city center. The airport works with numerous airlines all year round. Moreover, there are several charter flights from April to October, serving a lot of countries in Europe. As a result, Heraklion Airport is one of the busiest in Greece, second only to Athens International Airport. The flight from Athens to Heraklion lasts about 45 minutes. For more information, you can visit the following websites: https://aia.gr/en/traveler/flight-info/direct-flights/domestic or http://www.heraklion-airport.info/arrivals.html .
About Crete
Crete is the largest and most populous island in Greece and one of the biggest in the Mediterranean Sea. It is located at the southern end of the country. The Cretan Sea lies to the north and the Libyan Sea to the south of the island. The economy of Crete plays a major role at the financial status of Greece. It focuses on tourism and services, as well as agriculture and farming. Crete's economy is interrelated with the climate of the island. Its winters are mild, while its summers are warm. Even though it is mostly known for its beaches, Crete is a mountainous island with several gorges, rivers and even lakes.
Crete's history is very rich, going back into the Bronze Age. Its most prolific era was during the Minoan times. Considered as the oldest in Europe dating from 2700 BC, Minoan civilization was fairly sophisticated, as the remnants of Knossos and Phaistos can attest. Its name derives from Minos, a mythical figure thought to be the first king of Crete. According to Greek mythology, he was the son of Zeus and Europa, a Phoenician princess whose name is used until today for the whole continent. The princess was abducted by the king of the gods and was brought to Crete.
The major cities on the island are Chania, Rethymno and Agios Nikolaos. Its capital is Heraklion.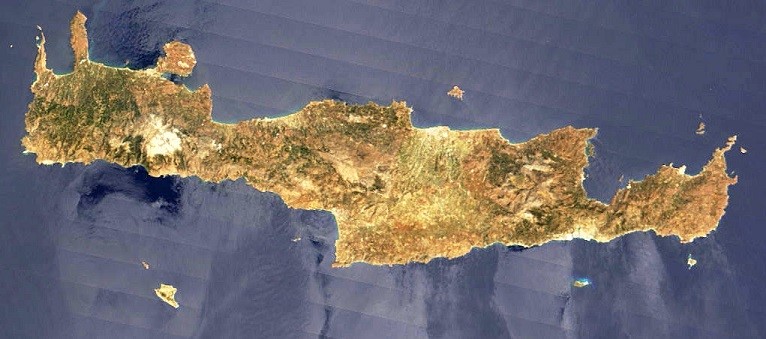 Language
English is the official language of the MT-ITS Conference. No simultaneous translation is provided.
Time
Heraklion is at UTC/GMT +3 hours during the summer period.
Electricity
The electrical power supply voltage in Heraklion is: 220-240 Volts (U.S./Canada: 110-120 Volts).
Telecommunications
There are three main GSM operators in Greece that you can roam with: Cosmote, Vodafone and Wind. The protocols for digital mobile telephone transmissions are based on GSM technology, operating at the frequencies of 900 and 1800 MHz. Please contact your provider for further details.
Emergency Telephone Numbers (Fees may apply)
Ambulance: 166, +30 2810 222222
Fire Department: 199
Police: 100
Tourist Police: +30 2810 274046
General Telephone Information: 11888
European Emergency Number: 112
Banking and Currency Exchange
Euro is the official currency. Banks' working hours: Monday- Friday from 8:00 AM – 2:00 PM.
Tipping
In restaurants and hotels, taxis or other services, tipping is optional and customized per case depending on whether you are pleased with the service. Approximately 5% of the bill is a good guideline.
Climate
Heraklion enjoys a warm Mediterranean climate and ample sunshine. The average temperature during May in Heraklion ranges from 20°C to 25°C / from 68°F to 77°F.
Liability and Insurance
Registration fees do not include participants' insurance against personal accidents, sickness and cancellations by any party, theft, loss or damage to personal possessions. Participants are requested to make their own arrangements with respect to health and travel insurance. MT-ITS Committee and the Professional Congress Organizer CONVIN accept no liability.